Debian Bug report logs - #4300
netpbm "Incoming" package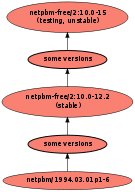 Reported by: "A.R.(Tom)Peters"
Date: Mon, 26 Aug 1996 22:03:04 UTC
Severity: normal
Found in version 1994.03.01p1-5.i386.deb
Done: unknown
Bug is archived. No further changes may be made.
---
Message #5 received at submit@bugs.debian.org (full text, mbox):
---
Send a report that this bug log contains spam.
---
Debian bug tracking system administrator <owner@bugs.debian.org>. Last modified: Wed Jun 27 21:09:57 2012; Machine Name: lindberg.debian.org

Debian Bug tracking system
Copyright (C) 1999 Darren O. Benham, 1997,2003 nCipher Corporation Ltd, 1994-97 Ian Jackson.